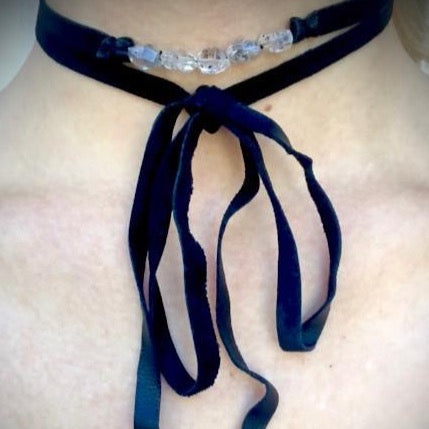 Sonya Ooten
Herkimer Quartz & Black Leather Choker
$ 225.00
This is such a versatile and interesting piece. 
It measures 52" in total length so it can be worn long, wrapped around neck twice as choker or worn around the wrist. 
5 roughly faceted Herkimer Quartz crystals in center. 
You can really have fun with this piece!
Herkimer Crystals symbolize openness.  Wearers of these crystals are open to the surrounding world and new impressions.  This stone enhances the properties of any other beneficial gemstones that it is worn with.  Herkimer Crystals are manifestations of pure, solidified spiritual light and emirate a high, harmonious energy. These crystals work especially  well for the star signs of Capricorn and Sagittarius.
Handmade in Ojai, California.